Events
IBP Network Webinar: Dr Kathryn Stok - MicroCT imaging techniques and mechanobiology of cartilage and joint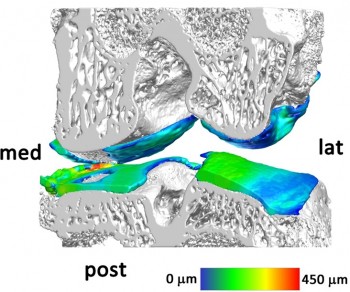 Date: 8 December 2021 Time: 10:00 - 11:00
Abstract:
Measurement of mechanobiological control directly affects our capacity to innovate functional solutions in biomedical engineering and the biosciences. Musculoskeletal joints are constantly re-modelling under day-to-day loads, and suffer from natural ageing and degeneration, injury, or breakdown, therefore an approach for elucidating global responses to specific stimulation is warranted. In this work, Dr Kathryn Stok will present new multiscale approaches for exploring cartilage and joint health using image-guided mechanics.
About the speaker:
Dr Kathryn Stok is Associate Professor of Mechanobiology in the Department of Biomedical Engineering at the University of Melbourne. Her research explores quantitative microstructural imaging and biomechanics of cartilage and joint structures. This involves the development of novel, in vivo, imaging-based measurement technologies for hard and soft biological tissues in 3D at different length scales.
About IBP Network Webinar Series:
Open to all IBP Network members. (Not a member? Join here)
To bring together members of our community.
Talks from eminent scientists, beamline scientists and facility specialists across the world.
30 – 45 minutes talk followed by 5-15 minutes Q&A.
Talk will be recorded (except the Q&A) and made available to all network members.
If you wish to suggest a future topic or speaker please contact us, speakers could be from academia, industry, within IBP Network or from further a field.
Register for the webinar here.